Clinical Prophylaxis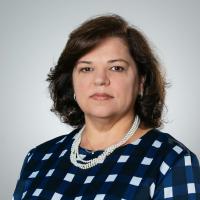 Dr. Margareth Ozelo has developed and currently runs a large hemophilia reference center that cares for over 800 patients (400 hemophilia patients). She acts as the director of a WFH designated International Hemophilia Training Center and as a consultant for Brazilian Ministry of Health on matters that relate to patient care through the use of coagulopathies and inherited bleeding disorders. Dr. Ozelo has over 100 peer- reviewed publications and has participated in numerous clinical trials. She serves on an abundance of various international and regional groups focused on hemophilia care. Dr. Ozelo is committed to training other teams in respect to hemophilia.
Key Publications
- Feldberg G, Ricciardi JBS, Zorzi A, Colella MP, Ozelo MC. Aquatic exercise in patients with haemophilia: electromyographic and functional results from a prospective cohort study. Haemophilia 2021 Mar;27(2):e221-e229.
- Connell NT, Flood V, Abdul-Kadir R, Arapshian A, Couper S, Grow J, Kouides P, Laffan M, Lavin M, Leebeek F, O'Brien S, Ozelo MC, Tosetto A, Weyand A, Kalot M, Husainat N, Brignardello-Petersen R, Mustafa RA. ASH ISTH NHF WFH 2020 Guidelines on the Management of von Willebrand Disease. Blood Advances 2021 12 January 2021; Vol 5 (1): 301-325
- Srivastava A, Santagostino E, Dougall A, and on behalf of the WFH Guidelines for the Management of Hemophilia panelists and co-authors (including Ozelo MC). WFH Guidelines for the Management of Hemophilia, 3rd edition. Haemophilia. 2020;00:1–158
- George LA, Ragni MV, Rasko JEJ, Raffini LJ, Samelson-Jones BJ, Ozelo M, Hazbon M, Runowski AR, Wellman JA, Wachtel K, Chen Y, Anguela XM, Kuranda K, Mingozzi F, High KA. Long-Term Follow-Up of the First In Human Intravascular Delivery of AAV For Gene Transfer: AAV2-hFIX16 For Severe Hemophilia B. Mol Ther. 2020 Sep 2;28(9):2073-2082.
- Fischer K, Collins PW, Ozelo MC, Srivastava A, Young G, Blanchette VS. When and how to start prophylaxis in boys with severe hemophilia without inhibitors: communication from the SSC of the ISTH. J Thromb Haemost. 2016 May;14(5):1105-9.